My Blog
Posts for tag: gum disease
By Douglas Hoppe DDS, PC
November 19, 2014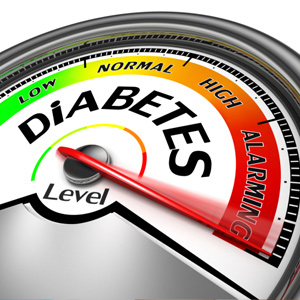 Periodontal (gum) disease is a progressive bacterial infection caused primarily by bacterial plaque on tooth surfaces not adequately removed by daily oral hygiene. In fact, nearly all of us will develop gingivitis (inflammation of the gum tissues) if we fail to clean our teeth and gums for an extended period of time.
Some people, however, have a greater susceptibility for developing gum disease because of other risk factors not related to hygiene. Patients with diabetes are at particular high risk for acute forms of gum disease.
Diabetes is a chronic condition in which the body can't adequately regulate the bloodstream's levels of glucose, the body's primary energy source. Type 1 diabetes is caused by inadequate production in the pancreas of the hormone insulin, the body's primary glucose regulator. In Type 2 diabetes the body develops a resistance to insulin's effects on glucose, even if the insulin production is adequate. Type 1 patients require daily insulin injections to survive, while most Type 2 patients manage their condition with medications, dietary improvements, exercise and often insulin supplements.
Diabetes has a number of serious consequences, including a higher risk of heart disease and stroke. Its connection with gum disease, though, is related to how the disease alters the body's response to infection and trauma by increasing the occurrence of inflammation. While inflammation is a beneficial response of the body's immune system to fight infection, prolonged inflammation destroys tissues. A similar process occurs with gum disease, as chronic inflammation leads to tissue damage and ultimately tooth loss.
Researchers have found that patients with diabetes and gum disease may lessen the effects of inflammation related to each condition by properly managing both. If you've been diagnosed with either type of diabetes, proper dental care is especially important for you to reduce your risk of gum disease. In addition to effective daily brushing and flossing and a professional cleaning and checkup every six months (more frequent is generally better), you should also monitor your gum health very closely, paying particular attention to any occurrence of bleeding, redness or swelling of the gums.
If you encounter any of these signs you should contact us as soon as possible for an examination. And be sure to inform any dental professional that cares for your teeth you're diabetic — this could affect their treatment approach.
If you would like more information on dental care for patients with diabetes, please contact us or schedule an appointment for a consultation. You can also learn more about this topic by reading the Dear Doctor magazine article "Diabetes & Periodontal Disease."
By Douglas Hoppe DDS, PC
April 24, 2014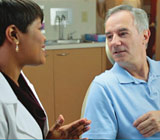 Periodontal (gum) disease is sometimes called a "silent" malady — meaning that its symptoms don't generally announce themselves with great fanfare (or pain, as conditions like tooth decay and root canal issues often do). Yet this disease is estimated to affect almost half of the adult population in the United States, causing deterioration of the gums and the bone surrounding the teeth… and possibly leading to bacterial infections, loss of teeth, and even systemic (whole-body) problems.
So what exactly is periodontal disease? Actually, it's the broad name for a group of related diseases which attack the soft tissue of the gums and the tooth-supporting bone. Most periodontal diseases are caused by the buildup of harmful bacteria in a biofilm (thin, sticky layer), which coats teeth in the absence of effective oral hygiene. And yes, that means if you don't brush and floss daily, you're much more likely to develop gum disease.
Even the most attractive smile could have gum disease lurking beneath it. How do you know if you may be affected? Some early warning signs include redness or inflammation of the edges of the gums, a bad taste in your mouth or bad breath, plus any degree of bleeding when you brush your teeth (brushing should never cause gums to bleed). As the disease progresses, you may develop painful inflammation or a pus-filled abscess, bone loss, loose teeth… and eventually tooth loss.
But don't wait until then to seek treatment! If you see your general dentist regularly, and if he or she notices signs of gum disease, you may be referred to a periodontist. But you don't need a referral — you can simply make an appointment and come in for a check-up. That may be wise if you have noticed any warning signs — especially if it has been a while since you've had an exam. Periodontal disease may be a silent malady, but that doesn't mean you have to let it affect your oral health.
If you would like more information about periodontal disease, call our office for a consultation. You can learn more in the Dear Doctor magazine articles "When To See A Periodontist" and "Warning Signs of Periodontal (Gum) Disease."
By Douglas Hoppe DDS, PC
March 25, 2014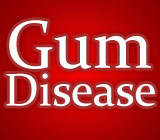 You've been doing "all the right things" — brushing, flossing, and keeping up regular office cleanings and checkups. But you're still struggling with gum disease — in fact, you've recently noticed loose teeth and other signs of infection.
While the primary cause of gum disease is dental plaque and calculus not adequately removed by regular oral hygiene and cleanings, you may also be among a small group of individuals with other risk factors that can worsen the effects of the disease. One of the most common of these factors isn't something you can do much about — the physical characteristics you inherited from your parents. In reality, some people are more genetically prone to disease than others because their body doesn't respond effectively to certain bacteria.
Chronic stress may also play a role in your body's resistance level: it can both increase your risk for the disease and magnify its effects. In addition, the type of bacteria causing the disease could be a factor — our mouths contain thousands of strains, with some bacteria more difficult to control than others.
If your gum disease persists regardless of all our best efforts, we may be able to test for whether any of these other factors are involved. Determining the presence of any of these underlying factors can help us fine-tune our treatment approach.
You should know, however, that it might not be possible to effectively address every factor involved. If that's the case, at some point it may be necessary to consider a tooth replacement option. The best choice by far are dental implants — not only are they functional and life-like in appearance, with proper care they could foster a healthier environment in your mouth by being stronger and more durable than the diseased teeth they've replaced.
Our ultimate goal as dentists is to alleviate gum disease and restore health and function to your teeth and gums. If that isn't completely possible due to uncontrollable factors, we then adopt a strategy to control the disease as much as possible to preserve your teeth for as long as is prudent. This can give you time, then, to prepare yourself mentally, emotionally and financially for future teeth replacement and restoration.
If you would like more information on periodontal disease, please contact us or schedule an appointment for a consultation. You can also learn more about this topic by reading the Dear Doctor magazine article "Periodontal (Gum) Treatment and Expectations."