My Blog
Posts for tag: oral cancer
By Douglas Hoppe DDS, PC
December 29, 2014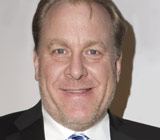 For years, even as tobacco use began to decline and disappear in most settings, professional baseball seemed one of the few exceptions. Now, the tide is finally turning. Recently, the legendary right-hand pitcher Curt Schilling revealed that he had been treated for oral cancer — and said that his chewing tobacco habit was to blame. "I'll go to my grave believing that was why I got [cancer]," Schilling told the Boston Globe.
Schilling isn't the only former player whose oral cancer is blamed on smokeless tobacco. Tony Gwynn, Hall of Famer and beloved coach, recently passed away from oral cancer at the age of 54. His death led to players pledging to give up the habit. But many still use "dip" or "snuff," thinking perhaps it's not so bad after all.
In fact, nothing could be further from the truth. With nicotine as its active ingredient, chewing tobacco can be just as addictive as cigarettes. Not only is nicotine addictive, it also increases heart rate and blood pressure, constricts the arteries, and affects the body in other ways. In addition to nicotine, chewing tobacco contains about 30 other chemicals known to cause cancer.
Tobacco use of any kind is a major risk factor for oral cancer. While it isn't as well-known as some other types of cancer, oral cancer can be just as deadly. About 43,000 people in the U.S. are diagnosed with it each year — and the 5-year survival rate is just 57%. One reason for the relatively low survival rate is that oral cancer isn't usually detected until it has reached a later stage, when it's much harder to treat.
What can you do to reduce your risk for oral cancer? Clearly, you should stop using tobacco products of any kind. Moderating your intake of alcohol, and eating more plant foods and less red meat can also have an impact. And don't forget to have regular dental checkups: cancer's warning signs can often be recognized in an oral examination — and early detection can boost survival rates to 80-90 percent.
How does Schilling feel about chewing tobacco now? "I lost my sense of smell, my taste buds for the most part. I had gum issues, they bled, all this other stuff," he told the Globe. "I wish I could go back and never have dipped. Not once."
If you have questions about oral cancer or cancer prevention, contact us or schedule an appointment for a consultation. You can learn more in the Dear Doctor magazine articles "Chewing Tobacco" and "Diet and Prevention of Oral Cancer."
By Douglas Hoppe DDS, PC
October 09, 2014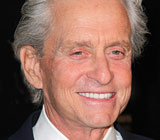 Actor Michael Douglas shocked TV audiences across the country when he announced on the David Letterman Show in 2010 that he has stage IV oral cancer. Fortunately, the cancer had not spread and his radiation and chemotherapy treatments were successful. This year, Douglas teamed up with the Oral Cancer Foundation to warn others about the dangers of the disease and the importance of early detection. In particular, he wants younger people to know that even if they don't smoke and drink a lot, as he admitted to Letterman that he did, they are still at risk.
As Douglas states in a PSA he made with the foundation, "the fastest growing segment of the people developing oral cancers are young, non smokers." That's due to a strain of the Human Papilloma Virus known as HPV16 that can be transmitted through oral sex. So it's important to avoid risky sexual behaviors and to be screened regularly for this devastating disease that claims one life every hour in the U.S., according to the Oral Cancer Foundation.
An oral cancer screening is a simple visual and tactile exam done right here at the dental office. We will feel your neck for lumps and inspect your lips and all inside surfaces of the mouth, including the back of your throat, for any suspicious signs. If any are found, a biopsy (laboratory analysis of a tissue sample) can be ordered.
Most oral cancers are "squamous" (small scale-shaped) cell carcinomas that occur in the lining of the mouth and are often preceded by recognizable changes (lesions) of the oral membranes. White or red patches begin to form in the pre-cancerous stage, and as the cancer develops, a non-healing ulcer may appear. If you notice any such changes in your mouth, please let us know.
Michael Douglas ends his PSA with the following plea: "So please, the next time you visit your dentist or your medical doctor, ask for this simple screening. Finding oral cancer in its earliest stages may save your life." We agree, which is why we always perform this screening during your regular dental check-up. If it's been a while since your last appointment, please come in and see us.
If you would like more information about oral cancer, please contact us or schedule an appointment for a consultation. You can learn more about the disease in the Dear Doctor magazine article "Oral Cancer."
By Douglas Hoppe DDS, PC
July 29, 2013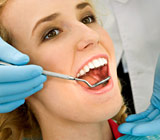 No one wants to hear the word "cancer." But thanks to advances in detection and treatment, the disease increasingly can be stopped in its earliest stages when it's most treatable and outcomes are most favorable. Oral cancer accounts for a relatively small 3% of cancers in men and 2% in women, but early detection rates are lagging. Our office screens for oral cancer as part of your regular checkups. Knowing some of the signs and symptoms can help you monitor as well.
The main areas where oral carcinomas (cancers) occur are:
the tongue (most common location, particularly the sides and on the floor of the mouth),
the lip (especially the lower one),
the oral cavity (the mouth), and
the pharynx (back of mouth and throat).
Early Signs
Most oral cancers are preceded by surface changes (lesions) of the oral membranes. In the "precancerous" stage, white or red patches start forming and a non-healing ulcer may appear. The most common locations on the tongue for this to occur are on the sides and underneath on the floor of the mouth. Lip cancers typically develop on the lower lip, usually in people with a history of sun exposure. There has often been prior damage at the site such as scaling and crusting.
Be aware that oral cancers can be mistaken for cold and canker sores, ulcers, minor infections, and even irritations caused by biting or certain types of food. If lesions don't heal within two or three weeks, there's a higher likelihood that they are cancerous.
An in-office examination includes the following:
visual inspection of face, lips, neck and mouth;
inspection of sides and underneath of tongue and floor of mouth using gauze to gently manipulate the tongue;
palpation of the floor of the mouth, sides of neck and glands to detect unusual lumps; and
an "open wide and say 'Aah'" examination of the back of your throat.
There are some risk factors for oral cancer that can't be controlled, such as a family history, age and race. But awareness, monitoring for potential signs and seeking prompt attention are always key ingredients in protecting your oral health!
If you would like more information about oral cancer detection, please contact us or schedule an appointment for a consultation. You can also learn more about this topic by reading the Dear Doctor magazine article "Oral Cancer."